Crop Watch: East (Bedfordshire/Hertfordshire) November – Farmers Weekly – Ben Pledger
Posted on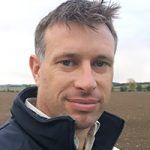 It would be an understatement to say that the weather hasn't been playing ball over the past month.
At time of writing, I have growers who have absolutely nothing drilled, through to a few who have just about planted all of the winter cereals that they had planned to.
Wet conditions are seeing crops drilled into cloddy seed-beds, which won't get rolled before the spring.
Care needs to be taken when planning pre-emergence herbicide applications on these fields, especially winter wheat, where there is the potential for large stacks of active ingredients to be applied to combat blackgrass.
Seed depth is critical when applying tri-allate, as it is active on the hypocotyl of the wheat plant. This could lead to crop loss if the seed is drilled at an insufficient depth, or the product finds its way around and underneath any clods, either during application or from subsequent rain.
Flufenacet-based products also have minimum drilling depth requirements, and if applied to shallower drilled, or uneven seed depths, could present yellower, stressed crops at emergence.
Earlier drilled cereals, into relatively good seed-beds, are showing these symptoms, so the potential is for this only to get worse as seed-beds get wetter.
With the loss of clothianidin seed treatments, eyes turn to emerging crops to monitor aphid activity with regard to the spread of barley yellow dwarf virus.
Recent field visits have shown that bird cherry oat aphids are present, and I have been surprised to see just how quickly after emergence they have moved into the crop and produced juvenile offspring – in some cases as quickly as two-to-three days post emergence.
Forecast models
Although some forecast models are not advocating applications of insecticides for a while, I would err on the side of caution where they are present, especially with the increased risk of higher numbers carrying the disease this year.
Monitor and treat on a field-by-field basis, rather than an unnecessary blanket approach.