Times May be Hard but There's a Need to Stay Positive – Agronomist & Arable Farmer – Charles Wright
Posted on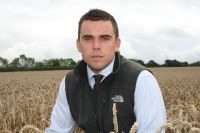 Charles Wright is a Farmacy Agronomist based in Lincolnshire and Nottinghamshire delivering a holistic approach to crop management for his clients. He predicts low establishment of autumn-sown crops after such a wet month, so seek out solutions.
I was determined when I started to write this piece not to talk too much about how challenging it is on farm at the moment – phone calls from clients and colleagues at the minute are very much orientated around frustration and negativity, but at least people are talking. This leads me to say make sure you pick up the phone and call a friend, a colleague or a neighbour or even better go and see them. Mental health is something we should all be aware of and not be afraid to talk about.
As an eternal optimist I still expect and hope there will be an opportunity to establish some autumn cereals in the next month. There will be blocks, fields and at best parts of fields that won't get drilled this autumn, but I hope clients concentrate on what they can do and not worry too much at this stage about what they can't. I would rather 75% of a field was established with no headlands drilled and we look to do something with these areas in the spring which might not actually be a combinable crop; this will reduce overall inputs in the field and remove lower productive areas.
Last autumn was one of the best I have seen for establishment of autumn cereals and this year has the potential to be one of the worst. I would therefore encourage growers to look at their seed rates and be realistic. I wouldn't be surprised when hopefully doing plant counts next spring to have as low as 40% establishment on a clay established with a tine drill and not rolled in conjunction with what looks to be a higher-pressure slug year than last. Where growers have managed to find a dry 24-36 hours, applications of pellets pre drilling has been very successful and hopefully reduced the pressure later in the season. When drilling does start seedbeds will have to be assessed to see what level of seed depth and coverage has been achieved but ultimately if in a black-grass situation if they have been drilled, they will require a pre emergence residual herbicide but be careful of which ones you use. With potentially lower levels of plants established with limited root structures in wet soil, careful consideration will need to be put into macro and micro nutrition either later this year should a chance present itself or early next spring.
The brief comment I will make on OSR this autumn is establishment has been very poor unless drilled in early August. Numbers of adult flea beetle have increased this autumn which shouldn't be a surprise with the levels of larvae about earlier this spring.
If the crop isn't good enough now be realistic and write it off before investing any more inputs. I do worry about the crops that have established well as although they survived the adult onslaught, what impact with the larvae have next spring? My total OSR area reduced by 50% before the start of planting and as a highly dominant rotational break crop my view is we now need to look at alternative options in the area I operate.
With failing and reduced OSR area, and potentially a lower amount of autumn cereals this will bring new cropping opportunities onto farm for the first time. It is always worth discussing the pros and cons of the different options with your agronomist but also look at the potential markets available later in 2020/21.